Project Summary
The project team evaluated the health impacts of the Extreme Energy Makeover (EEM) program – designed to improve energy efficiency in low-income homes through weatherization. The team assessed how improving dwelling quality impacts health as well as energy cost savings. They also examined how the resulting energy cost savings affect household budgets and expenditures on health and well-being.
Research Question(s)
What are the health benefits attributable to weatherizing low-income homes?
Actionability
Inform implementation and optimization of low-income energy efficiency and healthy housing programs, particularly in moderate and hot-humid climate zones, through creation of a database of the characteristics, health impacts, and costs and savings of weatherization.
Results
Weatherization improves self-reported health and saves families money. Families in homes that had been weatherized had fewer bad days of physical and mental health, were better able to pay their energy bills and afford prescriptions, and had higher-quality housing (e.g., reduced levels of mold, intrusion of outdoor noise and odors, more comfortable temperatures, etc.).
Weatherization programs could be improved by expanding eligibility for inclusion beyond income and by collaborating with the healthcare and public health sectors to identify those households most in need of their services.
Weatherization has financial benefits for households, such as improving the ability of households to afford their energy bills, and for society as improved health reduces health care costs.
Outcomes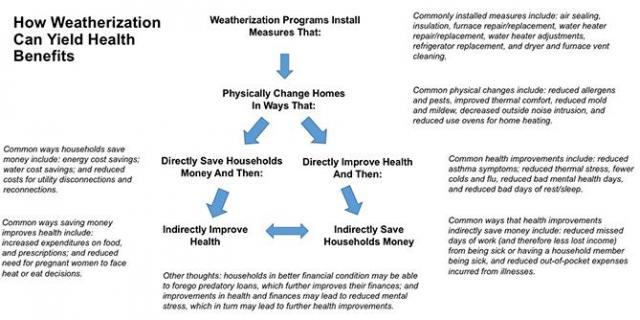 Methodology
Natural experiment including three comparison groups. Differences of means tests are used to compare a set of homes receiving weatherization treatment to a set of homes waitlisted to receive treatment and a set of homes that received treatment one year before. Self-reported health surveys are administered prior to weatherization and again one year later.
---